f-stop Loka Review
Words and photos: Marc Durand
My first camera bag for snowboarding was a Burton, then a few years later I got a Dakine Sequence. However, it wasn't until I got an f-stop Loka that I felt like I could snowboard normally with a camera pack on. With the Burton and the Dakine, the packs weren't bad, but they rode loose, and I would end up riding like my mother. "I'm carrying my camera and I have to be careful" was my excuse. The swing weight was quite noticeable on every turn.
Enter the Loka. The bag is supported by an internal frame which keeps things solid and stops the sloshing around you get from unsupported bags. I could now ride and have fun while carrying my camera gear. I had been happy with my Dakine, but ask me now and I would never go back. The difference is like night and day.
Shallow ICU - Large
So what makes the Loka such a good pack?
I think, in a word, I'd have to say "quality". From the materials used to the entire bag layout, you can tell this wasn't designed by a cubicle jockey, rather, by someone who actually snowboards, hikes, rides and shoots professionally. The Loka isn't made to supplement sales from a market demographic, it's made to be used and abused. I've had my Loka for three and a half years and it still looks new. Granted, I'm not abusing it, but I'm using it every weekend for snowboarding in the winter, and for hiking or going abroad in the summer. The zippers are tough and provide a well-thought-out access to the inside of the pack. The straps are supportive yet comfortable. I can carry heavy loads and not really feel it thanks to these straps and the comfortable waist belt.
Side view (from left to right: micro, large shallow, medium slope, small pro)
I also love how the bag is both a top loader and back loader. That is, you can access the inside by either the top or the back panel. It's easy to grab a water bottle, food or an extra layer from the top opening. Camera gear access is from the back panel. It's also hydration-compatible if you want to run a hydration tube setup. It's got all the right straps on the outside for carrying a snowboard or tripod, and can handle a-framing for splitboards and skis.
It's a 37-litre bag, and for me that is the perfect size for an average day of shooting off the mountain. On an easy mountain day I can cinch the compression straps down tight and make it smaller. On a big backcountry day I can stuff it full of gear and everything fits snugly. I would only need a bigger bag if I was overnighting, or doing a shoot which required my entire flash kit. The only negative I can think of is the lack of a snow tools or a wet pocket for a shovel, probe and skins. The probe and shovel handle have to be slid in the sides of the pack just outside the ICU. The shovel head slides into the non-padded laptop sleeve, and skins just go in the main section. However, if you don't ride in the backcountry, it shouldn't be an issue.
Below you can see me with the Loka on a family holiday on the French Riviera. It isn't an obvious camera backpack and it isn't very bulky. It's quite easy to cinch it down to fit whatever you're carrying and keep the lowest profile possible. It's especially good for traveling, as it fits in the overhead bin on an airplane.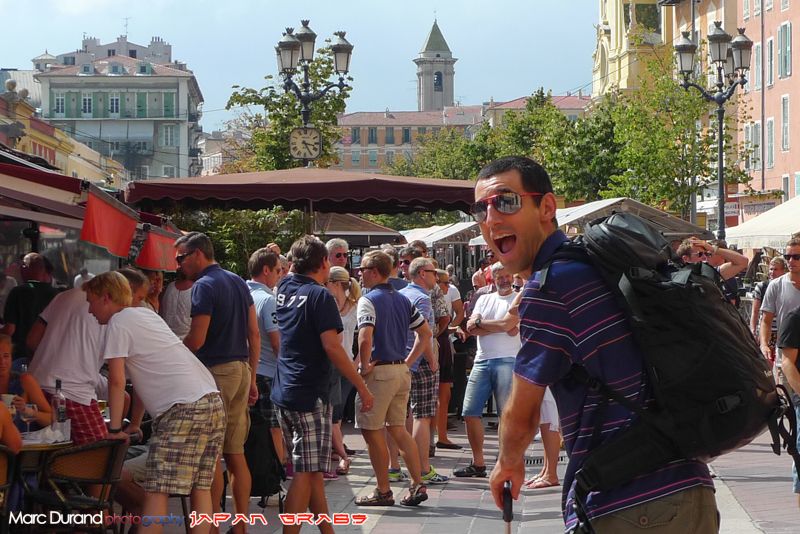 The f-stop Loka is perfect for the summertime too

I can safely say this is the best pack I have ever used. I use it even when I'm not carrying a camera. I can just slide out the ICU (padded camera block) and it becomes a regular backpack (albeit a super high quality one).

Highly recommended.