@phedder could help you with this one.
Phedder is probably your best bet for South Island stuff.
Oh hey, that's me!
Club fields are truly something special, but be prepared to have your ass kicked by both the rope tows and the terrain on a snowboard. Lots of traversing for the good stuff.
Are you planning on a big road trip, or more thinking of doing a couple days each at 2-3 mountains?
I work at Roundhill, will be back again for my 4th season there, absolutely love it. But, that's also largely down to the crew and the owners. We're actually a commercial field but it feels like a hybrid between a club field, really fun friendly vibe, you can reverse the car up to the slopes and have a bbq in the car park etc. For the most part our terrain isn't that exciting, we have a fantastic groomer driver though who works wonders so that's why I've fallen in love with carving, and also why we get a lot of international race teams training there.
Then, we also have the worlds longest and steepest rope tow
It's a mission and a half just to make it to the top, and if you've never used a rope tow before you'll feel every meter of the 1.6km. The range the tow accesses is some of my favourite terrain in NZ, ~650m of steep, fall line, open face riding. Highly conditions dependant though, last year we only had it open for 5 days and I managed to destroy a board (semi intentionally…hitting the dangerous goods no one else had got yet.) Whereas in 2015, we had it open for probably 80% of the season. Here's a clip of it's opening day after a good dump but a thin base. Though the rope tow is very long, it's also easy to load as we have a ride in to it, a slight downhill to help you match the speed of the rope, whereas most other fields it's either a flat load or even uphill, which takes you from 0-3.5m/s (or whatever speed they're running at) and is a bit of a lurch to say the least!
Mt Olympus would be my pick of where to spend the most days, its on mountain accommodation is fantastic, there's a hot tub, and everyone pitches in to help clean up after lunch and dinner, then chill at the bar. Their tows are fairly easy as well, all being flat starts, and their top tow has a very slight downhill into it. They do swap sides though, bottom is on your right, middle on your left, top on your right. So either be a strong switch rider, or quickly learn how to ride a tow regular from both sides (I prefer just going switch when I have to) Mt Olympus is my favourite terrain in NZ, hands down. They host a freeride tour event there now to give you an idea, so with 10 min hikes to the lookers right of the top tow you can access some truly insane terrain, there's an area called 'Little Alaska.' If you head off the lookers left from the top tow there's an area called 'Frozen Waves' which if you have any kinda of all mountain freestyle leanings, is pure heaven. So many little bumps, mounds, wind lips, anything playful you can imagine terrain wise. Really good spot to get your transitions, flips, spins, or just air everything out.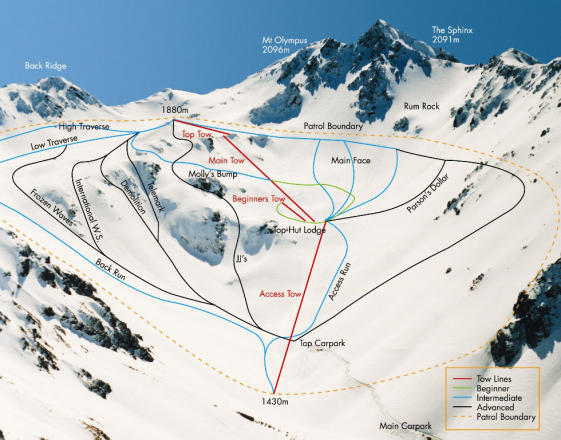 Craigeburn is my second favourite, also has fantastic on mountain accommodation, where everyone pitches in and then a great bar and couches area up top. The tows here are definitely more challenging, but the terrain is worth it. From the top tow you can do a 2-3 min hike to get over a ridge for about 6-7 different chutes, ranging from wide open to "Point it because it's narrower then your board is long…" then traverse back across to the day lodge/bottom of the top tow and do it all again. Short but exhilarating, or if you want long wide open runs carry on down from the chutes into the middle basin which then joins up to the access rode where you can hike 15 min or so to get back onto the skifield. Worth doing at least once or twice. Otherwise everything to the lookers left of the tows is good money, wide open and relatively simple or pick as many rock bands to drop as you want. I've never been able to ride Kea Ridge or Martys due to snow cover, but looking at it would be an experience for sure with good snow.


These club fields don't groom, so the stoke is definitely conditions dependent to an extent, but it's also low traffic so it doesn't really ever get messy. We always go at the end of the season so I've unfortunately never had powder there, but the spring corn harvest is surely a close second. Those laps after lunch and a beer are just heavenly.
I've never ridden Broken River, but it's literally right next to Craigieburn, you can traverse/hike across from the top but you'd want/need avy gear for that. Easier just to drive over for 1 day, from the map and what I've heard it is easier to ride than Craigieburn, they actually have some blues and do a little grooming I believe. If you book a few days at Craigieburn and get a little burned out in the middle, Broken River's probably worth it for a slightly cruisier day. Only slightly…
Temple Basin I haven't ridden either, but I have hiked/climbed there over summer (Where the forecast was good so I took my summer sleeping bag… Woke up to a tent covered in a sheet of ice
) Again (see a trend with club fields?) the terrain is insane, I'd love to ride there on a good day but the layout of the field and lifts system is all a bit scattered, there'd be a lot of hiking and traversing for a snowboarder, though in the right conditions it's always worth it. It's the closest to the main divide, so has potential to get the most snow from big wet westerly systems, but also probably gets more rain than any field in NZ, so keep an eye on temps.